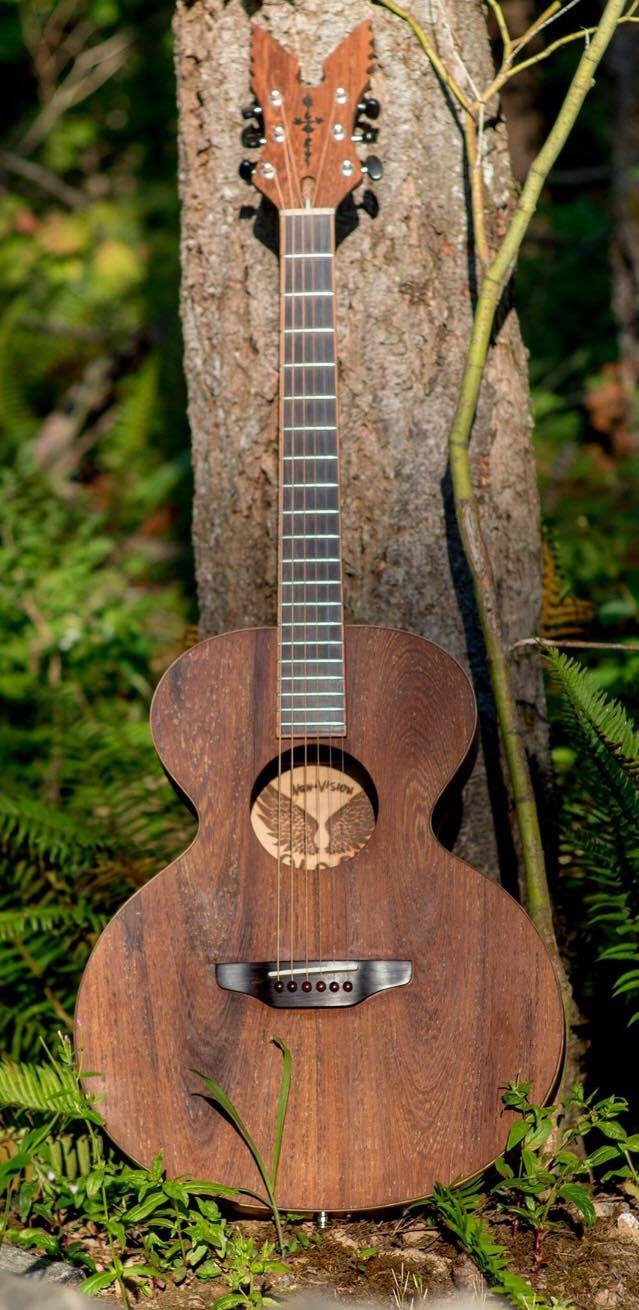 New+Vision Glory… $2000 USD

The New+Vision Glory is truly one of a kind for so many reasons. It's an accumulation of a long time dream of Andy's to build an acoustic that stood out from the norm. An acoustic version of the Glory was an obvious choice. But certainly NOT the normal plywood built, machine cut, Spruce, Cedar, Maple Dreadnought. It needed to be something different. Not just some super expensive, hang on your wall piece of art. Andy wanted a guitar that all types of players would enjoy playing, from your kids just learning to the seasoned veteran. This is a guitar only a seasoned musician could create.
The acoustic Glory didn't come to life until Andy meet Nathan Graf of New+Vision Soccer. A non-profit an organization based in Tanzania, Africa that created a trade school that teaches carpentry skills. This was birthed out of New+Vision's mission to help youth and young adult men become self-sufficient and God-fearing, fishers of men. Also, New+Vision Soccer's trade school needed a teacher.
It was a perfect fit. Tanzania has some of the most unique tonewoods in the world was an obvious draw for Andy. The catch was that Tanzania does not allow any of its wood to be exported. It must be built into something in the country. Forest conservation and knowing where the wood comes from is super important to Andy. This truly added to the uniqueness that Andy was looking for. The last ingredient was the huge impact every guitar makes. Not just for the young men, Andy is teaching his craft to, but 100% of all the profits go back into the education program of New+Vision Soccer. It's a win, win!
The New+Vision Glory is a 100% hardwood acoustic guitar that is made one at a time in Tanzania with every one of them being overseen, strung, and tuned by Andy himself. When you buy an NV Glory acoustic guitar, not only are you getting something very unique, you truly are making a difference in the lives of so many young men living in extreme poverty.
Coming soon… A guitar as unique as the NV Glory demands a case that just as unique.
100%all leather case, completely handmade in Tanzania.